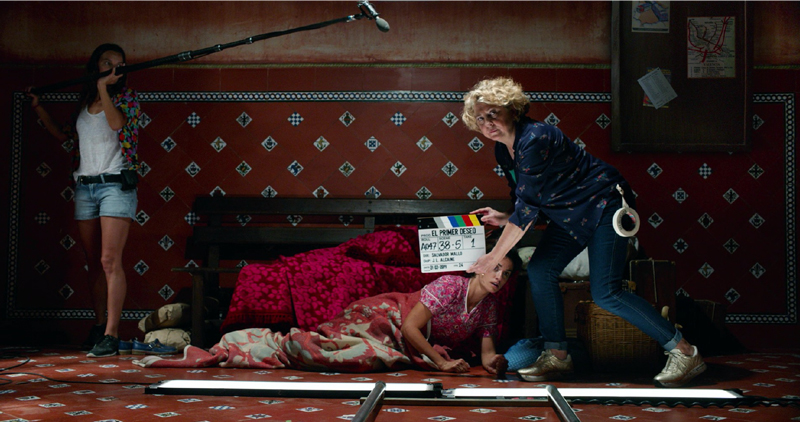 Crew Production
(FAMST 106A & 106B)
This challenging course offers students the opportunity to work together to produce a short film over 2 consecutive quarters. Four films are created, selected by a tribunal of industry professionals after scripts are delivered and projects have been pitched. Students who are keen to participate are then "hired" to fulfill a Core Role in one of the projects before crews "hit the ground running". Unlike most classes, 106 provides 2 instructors who help crews through Pre-production, Production and Post before premiering their films on the last Friday of Winter Qtr.
How 106 scripts are submitted & the film selection process:
To submit a script or documentary treatment for consideration, attach your script / treatment & a detailed budget estimate, and SEND to: 106_Scr.s4qfcve9nk7zwgu4@u.box.com
The submission folder will open at 9am on Tuesday, Sept. 27th and will close on Wednesday, Sept. 28th at 9pm.
*Any material submitted before or after will not be accepted*
**If more than 12 scripts are submitted then an anonymous committee selects which scripts will have the opportunity to pitch**
106 Pitch Session – Friday, Sept. 30th, 4-6pm
*Pitches will be held in the Pollock Theater*
Each student is given 10 minutes to pitch a project. (Pitches should include: the Premise / Storyline, Crew Needed, Experience of established crew members, specific production plans & an Estimated Budget. Students can use still images in their presentation.
After the Pitch Session, the 106 Tribunal will take the weekend to read the scripts (or treatments) before deciding which 4 films will be greenlit for production.
The selected films will be announced on Monday, Oct. 3rd and interested students will attend the 1st class.
(Tuesday, Oct. 4th from 9 – 10:50am in the Concept Room – SSMS 2303).
Enrollment in Crew Production
In order to secure a spot in 106A & 106B, each student is responsible to fulfill the duties of one of the seven Core Roles listed below. Some students will fulfill more than one role, this will be determined on a case-by-case basis. ("Hired" students usually receive their Add Code within the first 2 weeks of class)
Crews should be completely filled by Thursday, Oct 13th. (Another way to be involved is to sign on an intern. 100 hours of work earns two units and there is a two unit maximum. Production Managers administer the intern assignments)
The Core Roles
– Producer
– Writer
– Director
– Production Manager
– Camera (2 per crew)
– Sound (2 per crew)
– Editor
– Art Dept (Narrative only)
Filmmaking in the time of Covid-19
Our first priority for all students, staff & faculty is SAFETY. With the pandemic ongoing we will be approaching all production courses with this core principle at the center of all decision-making. Many traditional aspects of filmmaking will be adjusted in order to keep everyone safe. To participate and remain enrolled, all students will be required to strictly follow all of our health guidelines.

Below are last years pitches: