With a long-standing history of over 35 years, the goal of the Film and Media Studies Department has always been to provide our students with the finest possible opportunities to advance in the fields of film and media study, research, archiving and production. Our faculty are outstanding, our staff are dedicated, and our talented alumni have garnered well-deserved praise in the areas of animation, education, screenwriting, documentaries, special effects, and popular music.
Over the past few years we have expanded our focus to address emerging areas such as media policy, environmental media, interactive media, risk and media, data visualization, and curating. Our undergraduate enrollment continues to be strong, and our alumni keep garnering international recognition, including Oscar and Emmy nods. The graduate program, launched in 2005, is now recognized as one of the very best in the country, with our PhDs already making their mark in the field. In 2009, we shifted to a new building that also houses the Carsey-Wolf Center and the Media Archives, and is adjacent to the Production Stage and the state of the art Pollock Theater (which serves as classroom during daytime and a venue for public screenings and discussions in the evenings). It is an exciting time in the department and we wish to thank all those whose generous gifts have helped us get this far. 
However in a time of tight resources we continue to need your help to provide our students with the education they deserve.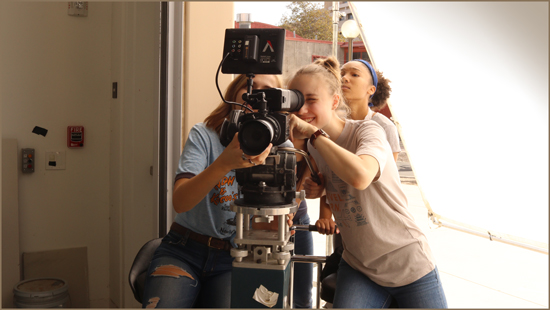 Opportunities for Giving
Film and Media Studies has several targets which could particularly benefit from your support:
Film and Media Colloquium Series
Graduate Student Fellowships
Graduate Student Research Funding
Media Fields Online Journal (published twice a year by graduate students)
The Paul N. and Elinor T. Lazarus Screenwriting Scholarship
Undergraduate Production Fund
Alexander Sesonske Prize (annual award given for best scholarly essay)
The David F. Siegel Award
(recognizing students who faced adversity during their studies)
Focus Media Journal (published annually by undergraduates)
Or, you can donate to a general pool marked as "Unrestricted Funds."
If you need more information, please contact:
Julie Sperling
Development Director, Humanities and Fine Arts,
(805) 893- 5181
julie.sperling@ucsb.edu
Dana Loughlin
Development Director, Humanities and Fine Arts
(805) 893-3922
and/or
Professor Peter Bloom
Chair, Film and Media Studies
pbloom@filmandmedia.ucsb.edu