Biography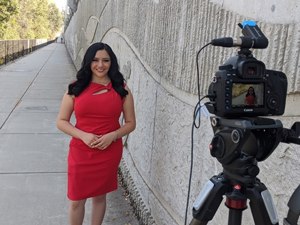 Kassandra Gutierrez, is a weather anchor and Multimedia Journalist at KRCR News Channel 7 in Redding, California. She anchors weather on the weekend and field reports as a news reporter during the week. During her time at KRCR she has covered breaking weather news, including a tornado and fires in Northern California.
She was born and raised in a small town nestled in the center of California, it is called Lindsay and is known for its groves of olives and oranges. She went to Lindsay High School and was very involved in sports, academia, and extracurricular activities.
Prior to reporting in Redding, she was a news reporter and weekend weather anchor in Eugene, Oregon at KMTR and KVAL News. During her time in the Pacific Northwest she became an advocate for efforts to end human trafficking in Oregon and nationwide while covering advocacy events with local organizations. She also covered homelessness in Oregon, and mental health issues during the pandemic.
While at UCSB, she was a news reporter for KCSB FM 91.9 radio station, where her first interviewee was A-lister Jennifer Aniston, and wrote for The Bottom Line newspaper. She also spent time as an intern at Univision in Santa Barbara.
During her fourth year at UCSB she participated in our Study Abroad Program and studied in Paris, France for a semester. During her time in Paris she also got a job as a tutor, and taught English to several french native children. Prior to studying in France, she also taught English and Physical Education courses in Nairobi, Kenya.
After graduating college, Kassandra spent some time back in her hometown and represented her community as the 87th Queen at the Orange Blossom Festival. She was a substitute teacher for a couple of years and also wrote for a local newspaper, the Sun Gazette, covering sports and local community events. She enrolled in a couple of graduate courses at Fresno State and soon after began an internship with our sister station, KMPH Fox 26 in Fresno, California.
Kassandra enjoys traveling and has been to over a dozen countries, and hopes to continue to explore what the world has to offer. She looks forward to one day moving closer to her family and going back to the Central Valley reporting news and forecasting weather in her hometown. You can always reach her at kassandragutierreztv@gmail.com she has a passion for helping others, and is open to answering any questions you might have regarding her work field.