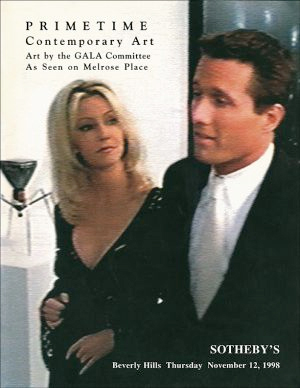 01/01/1998
Sotheby's, Beverly Hills, Calif., 1998
Rachel Valinsky
Primetime Contemporary Art: Art by the GALA Committee as Seen on Melrose Place
Primetime Contemporary Art is a publication documenting In the Name of the Place, a radical, two-year intervention by Mel Chin and a group of artists known as the GALA Committee on the primetime television show Melrose Place. Originally published in a limited run in 1998, this extremely rare artist book is reproduced here for the first time as a facsimile edition.
The loose group of artists comprising the GALA Committee worked in collaboration with the producers of Melrose Place to develop a series of political works that were used as props and plot devices across two seasons of the show, providing surreptitious commentary on reproductive rights, HIV/AIDS, the Gulf War, domestic terrorism, corporate malfeasance, and substance abuse, among others. Some of these topics were banned by the FCC at the time, and the group's works allowed for the artists and the show to create political commentary that went unnoticed by censors, subverting corporate and government controls of primetime television with a progressive agenda. These works were exhibited at the Los Angeles Museum of Contemporary Art in 1998 and then sold at an auction at Sotheby's to support several charities. Primetime Contemporary Art was created by Chin as a mock auction catalog, which he used to document the artwork produced for the show, as well as the conceptual framework of the GALA Committee.
Mel Chin was born in Houston, Texas and is known for the broad range of approaches in his art, including works that require multi-disciplinary, collaborative teamwork and works that enlist science as an aesthetic component to developing complex ideas. He created and implemented Revival Field (1990), a project that was a pioneer in the field of "green remediation," the use of plants to remove toxic, heavy metals from the soil. Chin is one of the artists featured in the first year of the ongoing PBS Series Art of the 21st Century. His proposal for a New World Trade Center was part of the American representation at the 2002 Venice Biennale of Architecture. In 2017 his film, 9-11/9-11, won the Pedro Sienna Award for Animation in Chile. His ongoing Fundred Project addresses childhood lead poisoning through art making. In 2017 he founded S.O.U.R.C.E. Studio to both enlarge the dialogue and realize sustained engagements with community and environment. In 2018 he presented Unmoored and Wake in Times Square, New York City, creating a visual portal into a future of rising waters and concurrently he had a 40-year-survey exhibition at the Queens Museum. He is the recipient of many awards, grants, and honorary degrees, including the MacArthur Fellowship, 2019, and election to the American Academy of Arts and Letters, 2021.