106 Crew Production Pitches
Online:
October 2 @ 12:00 pm

-

2:00 pm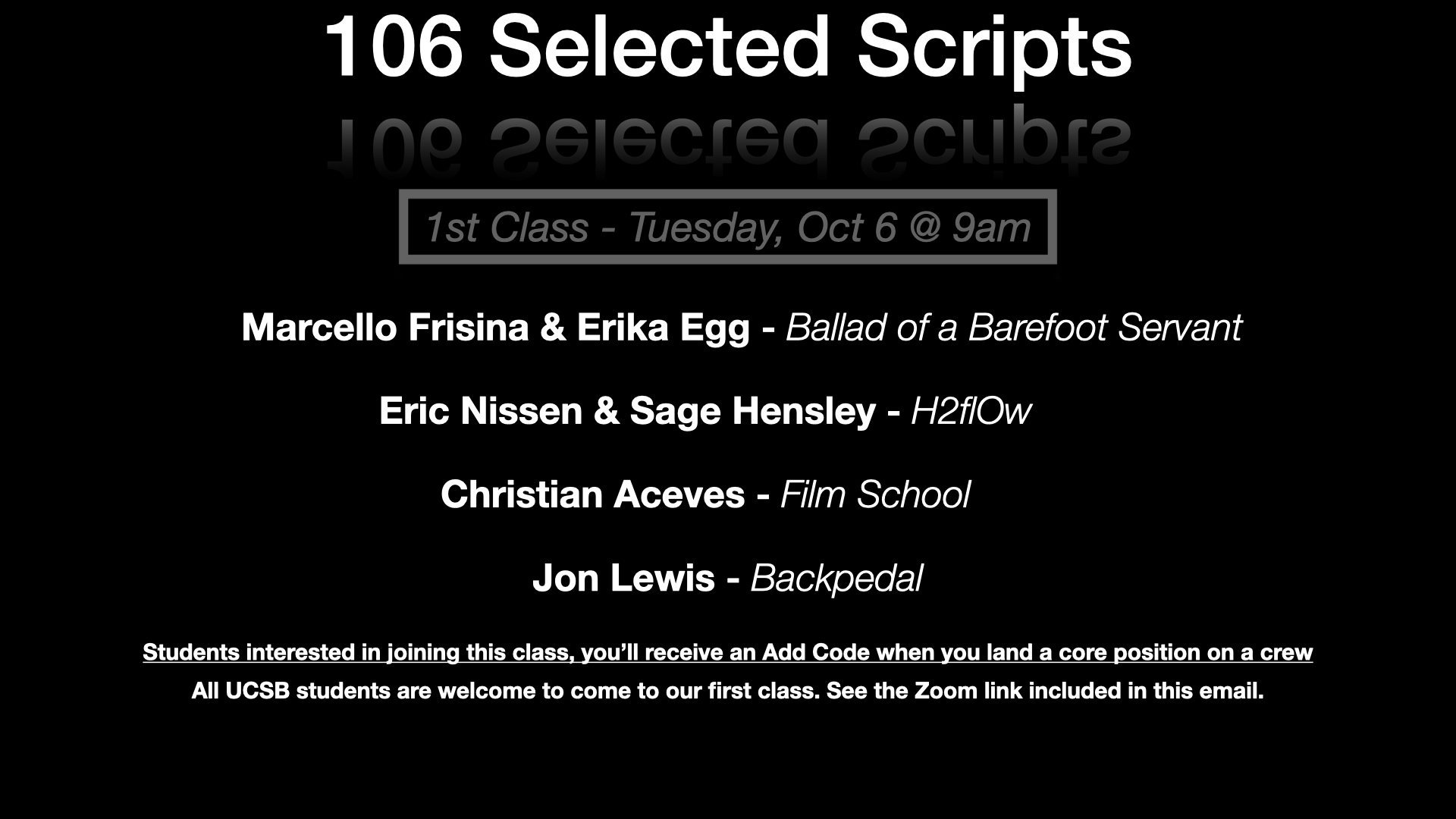 106 PITCHES 2020 link    (will become active starting at Noon – Friday, Oct. 2)
This challenging course offers students the opportunity to work collaboratively to
produce a short film over 2 consecutive quarters. 4 films are selected by a panel
of industry professionals and the producers of each film "hire" crew members and
hit the ground running, working with 2 instructors through Pre-production,
Production and Post before premiering their films on the last Friday of Winter Qtr.
*Filmmaking in the time of Covid-19*
Our first priority for all students, staff & faculty is SAFETY. With the pandemic
ongoing we will be approaching all production courses with this core principle at
the center of all decision-making. Many traditional aspects of filmmaking will be
adjusted in order to keep everyone safe. To participate and remain enrolled, all
students will be required to strictly follow all of our Covid-19 Guidelines.
How 106 scripts are submitted & the film selection process:
To submit a script or treatment for consideration, attach your
script / treatment & a detailed budget estimate, and SEND to:
106_Scr.sdhnds6ns7z6xx2e@u.box.com
The submission folder will open at 9am on Wednesday, Sept
30th and will close on Thursday, Oct 1st at 9am.
**Only the first 12 scripts / treatments received after 9am on
Wednesday will be guaranteed the opportunity to pitch. Last year we
received 13 scripts in the first 60 seconds, so it's best to be prepared**
4 short film scripts will be selected by a 3-person panel of
industry professionals who will attend the online Pitch Session
106 Pitch Session – Friday, October 2 from Noon – 2pm
(**The link to the Pitch Session will be provided on October 2nd**)
Each student is given 10 minutes to pitch a project.
(Pitches should include: the Premise / Storyline, Crew Needed, Experience of
established crew members, specific production plans & an Estimated Budget.
Students are encouraged to prepare an online slideshow with still images, in
which you "walk us" through your story.)
After the Pitch Session, the panel will dive into the scripts over
the weekend before deciding which 4 films will be green lit.
The selected films will be announced via an email and the Film &
Media Studies website at Noon on Monday, October 5th.