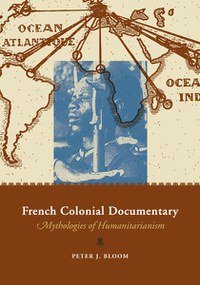 03/01/2008
French Colonial Documentary
Examines cinematic colonial stereotyping as the basis for humanitarian action.
Tracing the visual rhetoric of French colonial humanitarianism, Peter J. Bloom's unexpected analysis reveals how the project of remaking the colonies in the image of France was integral to its national identity. Bloom focuses on the promotion of French education efforts, hygienic reform, and new agricultural techniques in the colonies as a means of renegotiating the social contract between citizens and the state on an international scale.
French Colonial Documentary builds on the intertwined histories of colonial France and public health, with emphasis on the use of film in the context of preventive medicine. It contributes significantly to critical debates related to film and colonial history, modern France, and social geography.