2021 UCSB FILM AND MEDIA STUDIES GRADUATION RECOGNITION CEREMONY
Online:
June 13 @ 11:00 am

-

12:30 pm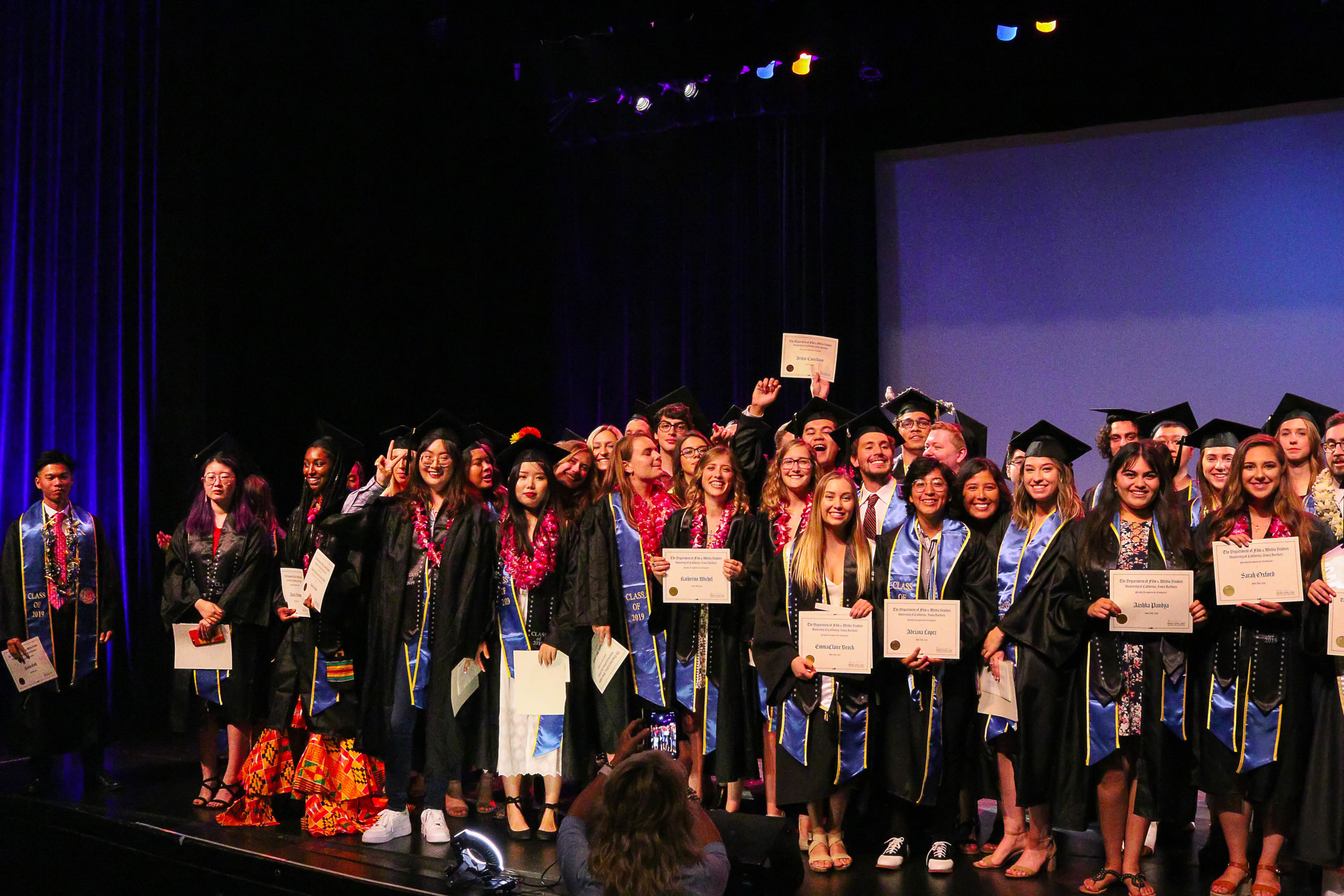 Edited by Keith Boynton, and Chris Jenkins, graphics Dana Welch
Special Thanks to Acting Dean Mary Hancock, Tom Lazarus and Michael Siegel
Graduation Recognition Ceremony
June 13, 2021
Wishing You Success in the Future
Welcoming Remarks
Peter Bloom             Department Chair
Mary Hancock          Acting Dean of Humanities and Fine Arts, Director of Curricular Initiatives
Departmental Address
Peter Bloom
Film & Media Studies Senior Projects and Memory Highlights
Compiled by Keith Boynton and Chris Jenkins
Student Address
Elizabeth Cook
Presentation of Awards:
The Alexander Sesonske Prize: Presented by Charles Wolfe
Recognizes writing and research capacity for student essays about film, television, and digital history, theory and criticism. The award is named after one of the founders of our department.
TIE:
"Herring Hitler: Irreverence as a Rejection of Fascist Performativity in To Be or Not To Be" by Eoin Goyette
"Behind Closed Doors: Early Cine-Feminism and Experimental Filmmaking of the Sixties & Seventies" by Ana Chavez
Senior Honors Project: Presented by Alenda Chang
Stewart Smith
The Paul N. and Elinor T. Lazarus Scholarship: Presented by Tom Lazarus
Fosters the development of a student's focus on writing for the screen. Award was established in memory of Paul Lazarus who taught screenwriting at UCSB for over 20 years. Many of his former students have gone on to write, produce, and direct major Hollywood films and television shows. It is open to Film and Media majors in their junior year. The scholarship recipient spends their senior year working in connection with an instructor to develop a new film or television screenplay.
Katherine Fogg
Distinction in the Major: Presented by Alenda Chang
Given to a student completing a substantial two-quarter research project.
Stewart Smith
The Dorothy and Sherrill C. Corwin Awards: Presented by Allison Anders
For the last 40 years, the Corwin Family and the Metropolitan Theatres Corporation have generously funded this award recognizing the creative talent of UCSB students in screenwriting and production.
Best Feature Screenplay presented by James McNamara:
Wine and Music in the Parish by Eoin Goyette
Best Short Screenplay presented by Wendy Jackson:
Fatherhood by Javier Barraja
Best Short Video presented by Chris Jenkins:
First Place:
Drop in Sand produced by Erika Egg & Marcello Frisina
Second Place:
Unfiltered produced by Hollie Collins
The Television Writing Award: Presented by Cristina Venegas
Recognizes promise in writing for the screen. Award is made possible by a donation from Rick Rosen (William Morris Endeavor).
Best Half-Hour Sitcom:
A Short Film: Crew Call by Michael Tran
Best Hour-Long Drama:
First Place:
Sapho by Sydney Sterling
Second Place
Silver Wings by Mariah Hudnut
Best Director Award: Presented by Rachel Gray
Recognizes directing in student projects created during the academic year. Award is made possible by a donation from the Scott Wells Memorial Foundation. Scott was a Film and Media Studies alumni who passed away in 2012.
Jon Lewis for Waiting on Host
David F. Siegel Award: Presented by Michael Siegel
Recognizes the memory of one of our alumni who lost his battle with Leukemia just a month prior to graduation. As a student, David made every effort to put energy into his classes while he was healthy. His determination in the face of his illness has inspired this award and it recognizes graduating seniors in the Film and Media department who have shown "exceptional drive, tenacity, and courage in the face of adversity."
Louis Gomes
The Spirit Award: Presented by Joe Palladino & Peter Bloom
Recognizes a student who embodies the dynamic spirit essential to the collaborative environment of the department; their enthusiasm, generosity, and initiative while working for the department, the Pollock Theater, and department student clubs.
Jake Ortega     Christine Mouton
Distinction in Critical Studies: Presented by Janet Walker

Recognizes a student's achievement in critical thinking, analysis, and writing.
Charmaine Stansall     Nick Johnson     Elizabeth Cook     Harper Lambert     Christine Mouton     Howard Lukk     Sydney Sterling
Outstanding Graduating Seniors: Presented by Michael Curtin
Recognizes student's overall academic achievements across critical studies and production as well as their contributions to the life of the department. We acknowledge students who are active, prepared, versatile, and involved in at least one other activity outside the classroom.
Quinton Brown     Ana Chavez     Alyssa Fine     Eoin Goyette     Dan Gunko     Jake Ortega     Sonya Sherman     Chris Silver     Elli Williams
Class of 2021: presented by Cynthia Felando, Ross Melnick, and Alenda Chang
Graduation Candidates
2020-2021 Film & Media Studies Seniors
Daniel Acuesta     Jonathan Aguilar     Yutaka Akiyama     Leah Akomolafe     Margo Akopov    Alex Hamilton Alvarez     Giselle Arroyo     Cole Atkinson     Javier Avalos     Samantha Bakke     Nalie Borihane     Sierra Brannen     Quinton Brown     Karen Buck     Dan Campanaro     Justin Cardenas     Audrey Carganilla     Ana Chavez     Mengxiao Chen     Tiffany Chen     Robin Clayton     Talavan Cohen     Ryan Connolly     Elizabeth Cook     Jessica Cortez Garcia     Hannah Dayton     Emma Demorest     Rachel Deng     Kyle Dent     Shianne Dingeman     Luka Dragoyevich     Leilani Durden     Tyler Eastlick     Alyssa Fine     Kira Finigan     Angela Friedman     Nicholas Gamber     Isaac Garcia     Joshua Garnica     Takai Gillam     Jorge Gonzalez-Espinoza     Eoin Goyette     Rachael Grand     Dan Gunko     Jason Gutierrez     Luke Hamann     Ryan Harriman     Nichole Hatcher     Jackie Hauser     Saige Heitman     Alondra Hernandez Carmona     Bailee Galvan Hobbs     Kelly Holt     Charli Hurley     Mana Inoue     Jazmin Jacob     Selene Jalalianfard     Yoo Jeong     Kobie Jimenez     Caryn Johnson     Marina Jones     Kirill Kaptur     James Karanu     Harvest Keeney     Andrew Kenny     Nidhi Khanolkar     Hyun Kim     Willy Kim     Yuta Kimura     Jennifer King     Harper Lambert     Cristina Larios Soria     Shelby Lawrence     Gerald Lawson     Jie Li     Tianjiao Li     Xueni Liao     Charles Liu     Joseph Loneman     Jose Salomon Lopez     Charles Lu     Howard Lukk     Lola Macaulay     Hannah Maerowitz     Jeremy Mao     Aidan Mastrogiorgio     Matthew Mcpherson     Theo Witteveen     Karina Morales     Christine Mouton     Kassandra Ni     Jake Ortega     Madison Ortiz     Ali Paolino-Du Bois     Roxanne Pereira     Cole Person     Hayley Pickard     Mia Pimentel     Hunter Pittman     Dustin Pitzer     Sam Platt     Jake Potts     Michelle Qi     Si Qin     Ayline Rebollo     Michael Reehl     Kylie Relph     Marke Riodil     Max Rothfeld     Dylan Ruebenstahl     Logan Ruybalid     Shorya Saklani     Zach Savage     Jeffrey Seeburger     Hanna Sheehan     Sonya Sherman     Jake Shore     Chris Silver     Alexander Sintic     Finnegan Smith     Rachel Smith     Dan Soroka     Viviana Soto     Charmaine Stansall     Sydney Sterling     Rosabel Su     Evan Sutherland     Derren Taylor     Harry Topper     Magan Tran     Kamryn Tung     Argun Turkun     Mariemma Uguccioni     Sabrina Vasich     Jared Vilaseca     Zach Villaruel     Angelique Wagner     Reece Weinberg     Elli Williams     Andrew Worstell     Siyuan Xia     Cage Yamamuro     Zhenan Yan     Chenyu Yang     Annie Zabilski     Tianyang Zhang     Justin Zuniga