2023 UCSB FILM AND MEDIA STUDIES GRADUATION RECOGNITION CEREMONY
Online:
Sunday, June 12, 2022 @ 11:00 am

-

Thursday, September 29, 2022 @ 12:30 pm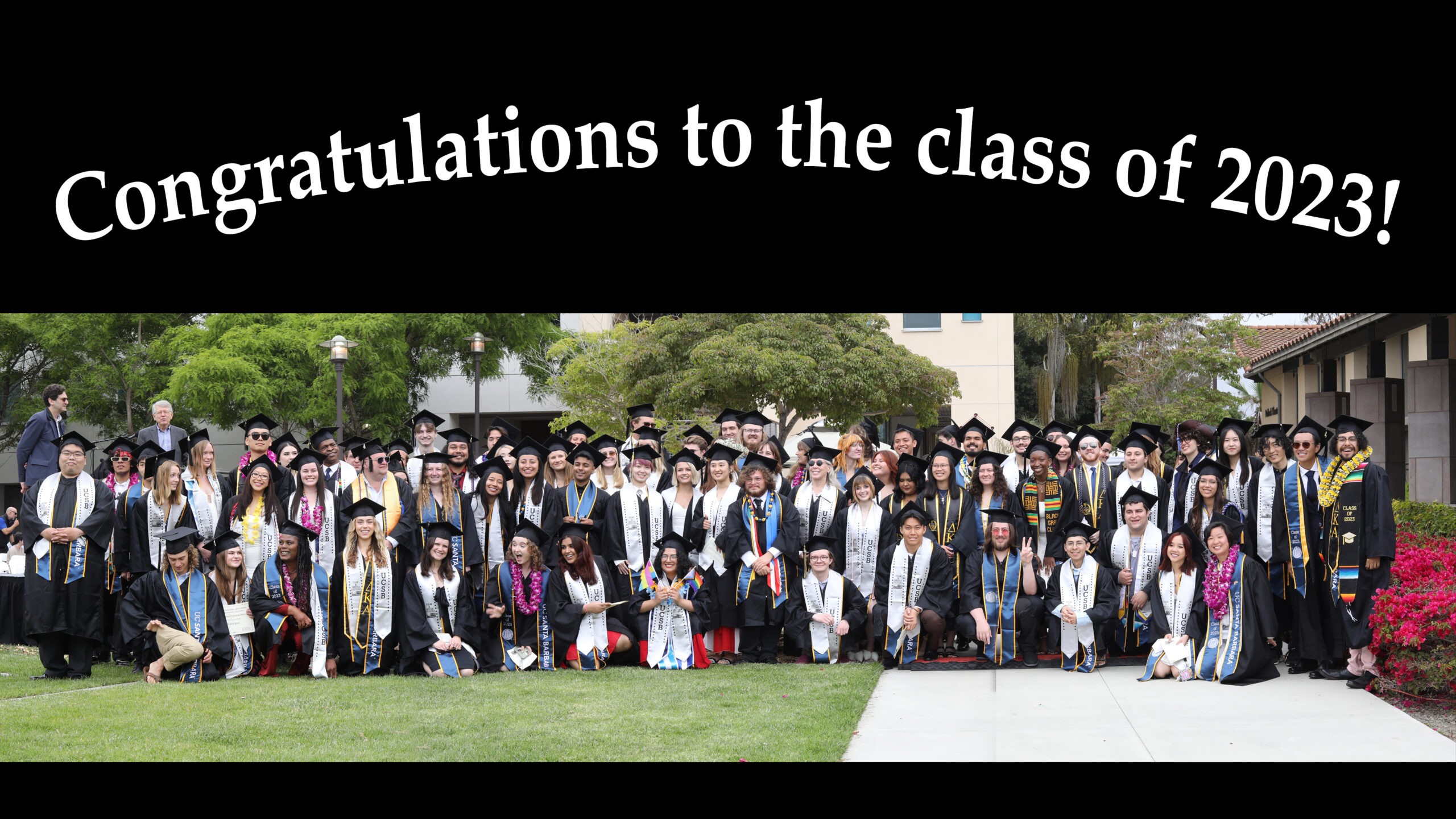 Graduation Recognition Ceremony
June 18, 2023
Wishing You Success in the Future
Welcoming Remarks & Departmental Address
Peter Bloom             Department Chair
Student Address
Alejandro Flores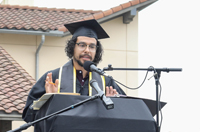 Presentation of Awards:
The Alexander Sesonske Prize: Presented by Charles Wolfe
Recognizes writing and research capacity for student essays about film, television, and digital history, theory and criticism. The award is named after one of the founders of our department.
First Place: 
Amy Hansa, "The Rise of Dubbing in 1930s Europe: Sociopolitical Motivations and the Cultural Effects of "Americanization."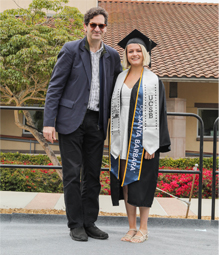 The Paul N. and Elinor T. Lazarus Scholarship: Presented by Janet Walke

Fosters the development of a student's focus on writing for the screen. Award was established in memory of Paul Lazarus who taught screenwriting at UCSB for over 20 years. Many of his former students have gone on to write, produce, and direct major Hollywood films and television shows. It is open to Film and Media majors in their junior year. The scholarship recipient spends their senior year working in connection with an instructor to develop a new film or television screenplay.
2022 Recipients
Javier Barajas      Noah Hecht      Rowan Oliphant
2023 Recipient
Katie Jordan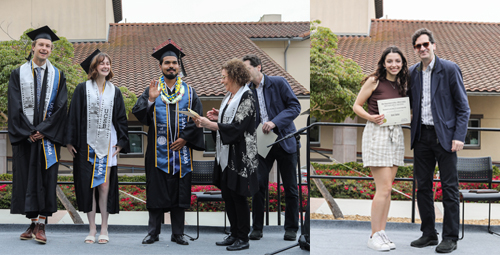 The Dorothy and Sherrill C. Corwin Awards: Presented by Chris Jenkins

For the last 40 years, the Corwin Family and the Metropolitan Theatres Corporation have generously funded this award recognizing the creative talent of UCSB students in screenwriting and production.
Short Screenplay:
"Sick Joke" by Jeff Peepgrass
Short Film:
"Forget Me Again" by Noah Hecht
Feature Screenplay:
"Sugartown" by Jeff Peepgrass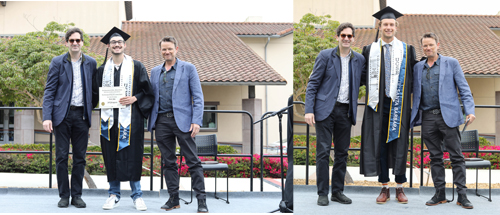 David F. Siegel Award: Presented by Michael Siegel
Recognizes the memory of one of our alumni who lost his battle with Leukemia just a month prior to graduation. As a student, David made every effort to put energy into his classes while he was healthy. His determination in the face of his illness has inspired this award and it recognizes graduating seniors in the Film and Media department who have shown "exceptional drive, tenacity, and courage in the face of adversity."
Crystal Kodsuntie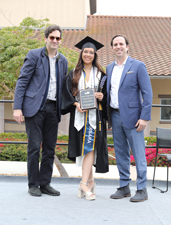 The Spirit Award: Presented by Lisa Parks

Recognizes a student who embodies the dynamic spirit essential to the collaborative environment of the department; their enthusiasm, generosity, and initiative while working for the department, the Pollock Theater, and department student clubs.
Al Adderly     Celeste Moore Malnar     Natalie Cheyette     Carenina Magsano

Graduate Student Accomplishments: Presented by Professor Ross Melnick
MA degree
Alex Lilburn        Paul Kim        Chelsea Roesch
PhD degree
Nathan Cox       Charlotte Orzel
Distinction in Critical Studies: Presented by Ross Melnick

Recognizes a student's achievement in critical thinking, analysis, and writing.
Katherine Caracciolo       DJ Duncan                               Rowan Esquer
Amy Hansa                       Sofia Higgins                           Crystal Kodsuntie
Joie Lariviere                   Celeste Moore Malnar             Emma Mcintosh
Brie Peterson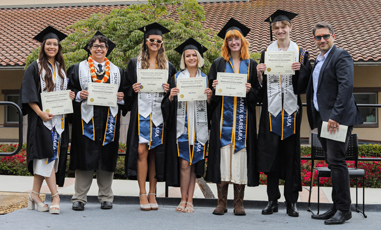 Distinction in in the Major: Presented by Greg Siegel
Given to a student completing a substantial two-quarter research project.
DJ Duncan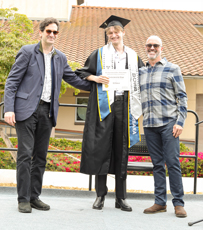 Outstanding Graduating Seniors: Presented by Jennifer Holt

Recognizes student's overall academic achievements across critical studies and production as well as their contributions to the life of the department. We acknowledge students who are active, prepared, versatile, and involved in at least one other activity outside the classroom.
Al Adderly               Noah Hecht              Yerin Hong           Sejin Jeon                  Zion Light             Liliana Linan           Carenina Magsano
Jeff Peepgrass        Brie Peterson           Abe Sanchez        Brianna Saranchock   Eric Tang               Sam Velasquez       Robyn Yan              Shannon Yates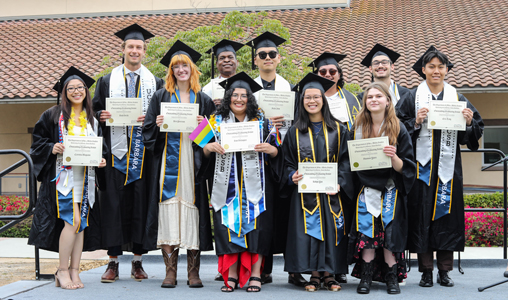 Class of 2023: presented by Ross Melnick, Alenda Chang, Constance Penley, and Jennifer Holt
Graduation Candidates
2022-2023 Film & Media Studies Seniors
Al Nicardo Adderly     Brandon Nicholas Anders     Mckenzie Mae Anderson     Brandon Andrion     Kayla Gonzales Arcilla     Jason Avilez     William A Baldwin     Robin Hill Baptista     Javier A Barajas     John Paul Barajas     Zayden Mcneill Bates     Kate Elizabeth Bellantoni     Brady Lee Berryhill     Min Khant Bo     Clay James Boghossian     Matthew Torres Brennan     Nick T Burbridge     Charlie Bursch     Johnny Francis Caldwell     Quinn Allegra Cantarutti     Gloria Marie Capulong     Katherine Anne Caracciolo     Jacob Antone Carmen     Ariel Chang     Douglas Chen     Linqin Chen     Natalie Rose Cheyette     Johan Choi     Sofia Ivy Ciraulo     Brandon Cobian     Troy Larnell Cochrane     Tristin Stone Csulak     Jack Christopher Cullinane     Halle Cameron Davis     Jaynar De La Cruz Ochoa     Boris Aaron De La Torre     Dylan Buckley Delaney     Dieyla Diop     Aayush Dixit     Nolan Michael Doherty     Dj Jeffrey Duncan     Lucy Verlaine Elser     Roy A Ernster     Daphne Marie Escajeda     Rowan Olivia Esquer     Gillian Lynn Flath     Emily Anne Flohr     Alejandro Ivan Flores     Hannah Jo Flynn     Miles Lee Forrest     Leo Giovanni Garcia     Alisha Gaur     Anastasia Gerber     Zhiwei Guo     Xavier Francisco Guzman     Dean Russell Handy     Amy Hansa     Garret Robert Harcourt     Roark Harris     Mark Harrison     Jacob Matthew Hathcock     Noah Freeman Hecht     Trey Edward Henry     Eleanor Jeanette Hense     David Jeremiah Heras     Destiny Rene Hernandez     Sofia Aria Meliana Higgins     Trevor Shaun Hilton     Athan Joon-Ghee Hong     Yerin Hong     Malakai Isaacs     Emma Rose Isroelit     Sejin Jeon     Jade Isabella Jess     Sidney Jiang     Wen Jin     Mckenna Cecilia Lynn Johnson     Lynn Kan     Arseniy Sam Khanamirian     Jonathan Sunghwan Kim     Crystal Kodsuntie     Kim Kwok     Angie Cassandra Laird     Joie Lauryn Lariviere     Olivia Miller Lazarus     Isabella Leary     Hee-Gun Lee     Kelvin Lee     Amanda Jean Lennon     Julia Ann Leonardi     Maile Azevedo Levy     Chen Li     Zion River Light     Jacques Lin     Liliana Linan     Theo Sawyer Lindquist     Kanghong Liu     Ellie Grace Lloyd     Ily Nicholette Logeais     Janneth Irlanda Lopez     Joseph Isiah Lopez     Sol Armendariz Lopez     Yvonne Lu     Elizabeth Maria Luna     Carenina Ceralde Magsano     Sawhard Maharjan     Stephanie Marin     Jake Franklin Marone     Crystal Martinez     Lesly Maria Martinez     Jon Douglas Matarangas     Wendy Matias     Fernando Kalon Mau Mao     Kevin Brian Mclarty     Mairin Justine Mcnerney     Kassie Ann Mei     Karla Judith Mercado     Suraj Mididaddi     Celeste Serena Moore Malnar     Ariadna Morales     Christine Nguyen     Kassandra Ni     Rowan Lisa-Jane Oliphant     Claudia Orta-Pina     Kim Ann Page     Jordan Walter Parrish     Nik Pasamba     Jeff James Peepgrass     Natalie Perez     Brie Noelle Peterson     William Bradley Peterson     Kymmie Ngoc Phan     Gia Anne Polizzi     Aileen Marianna Pulchny     Si Qin     Thalia Angel Rakosky     Miles J Ramsdell-Ray     Sissi Yamileth Rivas     Angel Robles     Diana Romero     Joey Leonard Sable     Defne Saglam     Kameron Matthew Salazar     Abe Alexander Sanchez     Daniel Sanchez     Brianna Cecilia Saranchock     Ellen Mae Schnoor     Maehyma Sekhon     Olivia Shields     Mya Claire Simmons     Kalen Adil Sinder     Ayala Michelle Slavis     Jackson Scott Smith     Randy Laurence Smith     Ethan Scott Stauber     Garrett Alexander Straschnov     Tommy John Swenumson     Eric Zihan Tang     Ernest Tarzimanov     Dane Christian Taylor     Eric Rodrigo Terrazas Aguilar     Ameena Constance Thune     Michelle Kha Ai Tiet     Marcellus Earl Tipton     Megan Kristen Tomczak     Brandon Tran     Marlen Evelin Valencia     Owen Murphy Vandevelde     Alejandro Vargas     Crow Vasquez     Sam Michelle Velasquez     Hugo Velazquez Perez     Cameron James Vincent     Lotus Vu     Josh Alan Waldear     Philip Wang     Chelsea Sue Williams     Daijah Myia Williams     Deni True Wilson     Robyn-Elizabeth T. Yan     Zhenan Yan     Shannon Nicole Yates     Vanessa Hope Yeazel     Andy David Yi     Clara Rachel Zeboulon     Andrea Zhang     Jady Zhang     Vik Zhou
Photos from the Graduation Ceremony