2022 UCSB FILM AND MEDIA STUDIES GRADUATION RECOGNITION CEREMONY
Online:
Sunday, June 12, 2022 @ 11:00 am

-

Thursday, September 29, 2022 @ 12:30 pm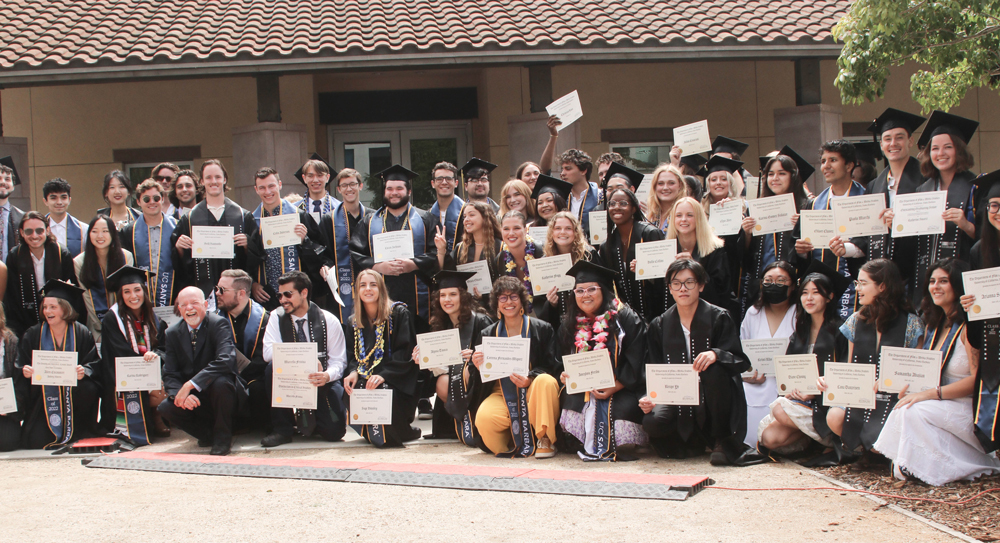 Edited by Keith Boynton, and Chris Jenkins, graphics Dana Welch
Special Thanks to Acting Dean Mary Hancock, Tom Lazarus and Michael Siegel
Graduation Recognition Ceremony
June 12, 2022
Wishing You Success in the Future
Welcoming Remarks & Departmental Address
Peter Bloom             Department Chair
Student Address
Magan Tran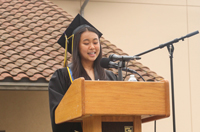 Presentation of Awards:
The Alexander Sesonske Prize: Presented by Charles Wolfe
Recognizes writing and research capacity for student essays about film, television, and digital history, theory and criticism. The award is named after one of the founders of our department.
First Place: 
Karina Rodriguez, "The Pandemic Pause-Button: Stop and Smell the Distractions"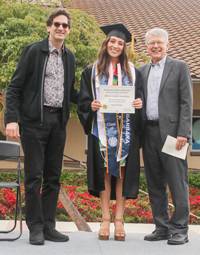 The Paul N. and Elinor T. Lazarus Scholarship: Presented by James McNamara

Fosters the development of a student's focus on writing for the screen. Award was established in memory of Paul Lazarus who taught screenwriting at UCSB for over 20 years. Many of his former students have gone on to write, produce, and direct major Hollywood films and television shows. It is open to Film and Media majors in their junior year. The scholarship recipient spends their senior year working in connection with an instructor to develop a new film or television screenplay.
2021 Recipient
Katherine Fogg
2022 Recipients
Javier Barajas      Noah Hecht      Rowan Oliphant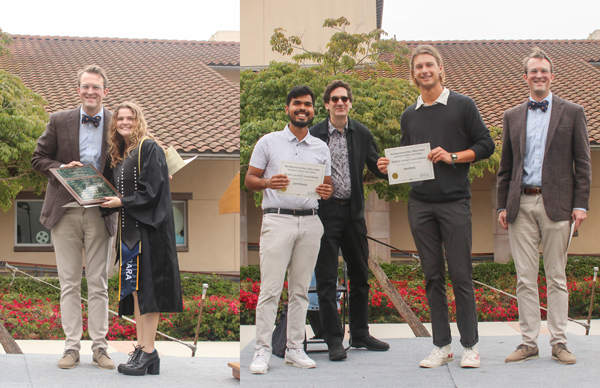 The Dorothy and Sherrill C. Corwin Awards: Presented by Cristina Venegas

For the last 40 years, the Corwin Family and the Metropolitan Theatres Corporation have generously funded this award recognizing the creative talent of UCSB students in screenwriting and production.
Best Feature Screenplay (Tie First Place):
"It Might be Too Late" by Loreena Miquez
"Follow Me" by Katie Jordan
Best Short Screenplay:
"Alien Encounter" by Audrey Sherev
Best Short Film:
First Place:
"Fatherhood" produced by Peter Figueira
Second Place:
"Just One Yesterday" produced by Mason Scot Campbell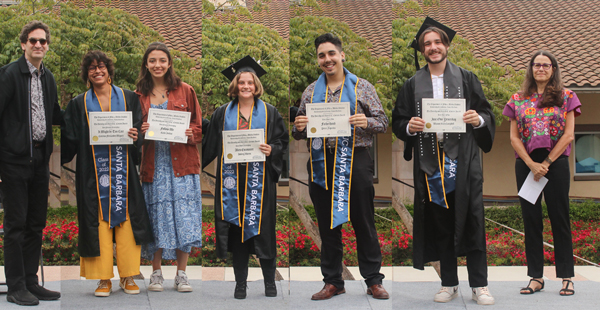 Best Director Award: Presented by Laila Sherreen Sakr

Recognizes directing in student projects created during the academic year. Award is made possible by a donation from the Scott Wells Memorial Foundation. Scott was a Film and Media Studies alumni who passed away in 2012.
Brie Peterson for Lady Scout Cookies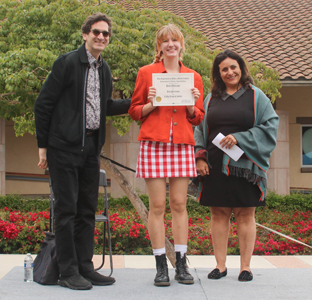 David F. Siegel Award: Presented by Michael Siegel
Recognizes the memory of one of our alumni who lost his battle with Leukemia just a month prior to graduation. As a student, David made every effort to put energy into his classes while he was healthy. His determination in the face of his illness has inspired this award and it recognizes graduating seniors in the Film and Media department who have shown "exceptional drive, tenacity, and courage in the face of adversity."
Ily Logeais
The Spirit Award: Presented by Joe Palladino

Recognizes a student who embodies the dynamic spirit essential to the collaborative environment of the department; their enthusiasm, generosity, and initiative while working for the department, the Pollock Theater, and department student clubs.
Katherine Fogg     Karina Rodriguez     Mason Scot Campbell

Graduate Student Accomplishments: Presented by Professor Ross Melnick
MA degree
Tinghao Zhou
PhD degree
Sarah Lerner     Kajsa Philippa Niehusen
Distinction in Critical Studies: Presented by Constance Penley

Recognizes a student's achievement in critical thinking, analysis, and writing.
Andrew Hansen     Sage Hinsley     Stephanie Lopez
Mason Scot Campbell     Marcello Frisina     Oswin Qi
Taylor Burke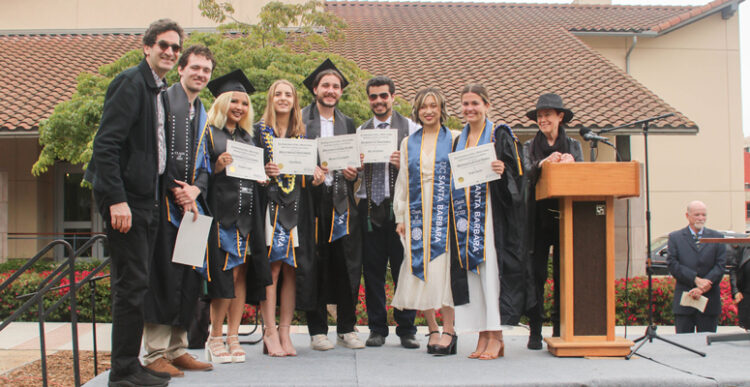 Outstanding Graduating Seniors: Presented by Greg Siegel

Recognizes student's overall academic achievements across critical studies and production as well as their contributions to the life of the department. We acknowledge students who are active, prepared, versatile, and involved in at least one other activity outside the classroom.
Karl-Erik Mills     Katherine Fogg     Lana Danzeisen     Karina Rodriguez     Michael Tran     Jon Peter Lewis     Samantha Abajian     Katherine Swartz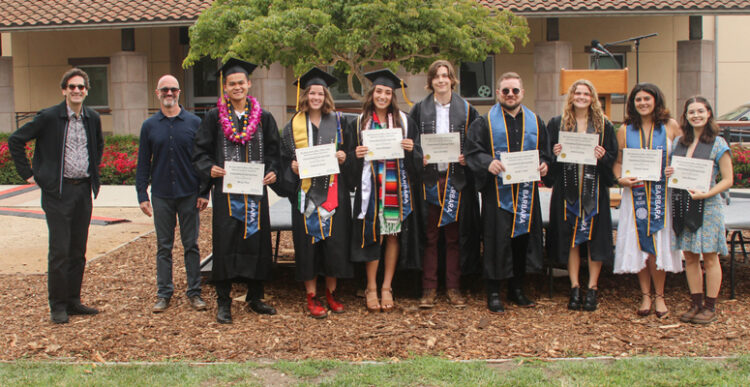 Class of 2021: presented by Ross Melnick
Graduation Candidates
2021-2022 Film & Media Studies Seniors
Samantha Maria Abaijan     Christian A. Aceves     Lily Kameaiomakamae Aiwohi     Romar Mejia Alog     Elyse Josie Alves     Colin Anderson     Ethan Scott Archer     Michele Aristy     Jeremy Evan Baker     Catherine Folz Ballantyne     Robin Hill Baptista     Sierra Rochelle Barton     Kiley Madison Beard     River Beaune     Megan Rae Becker     Josh Michael Bockholt     Nalie Erin Borihane     Max Brown     Tallulah Lynn Bryant     Taylor Ann Burke     Charlie Bursch     Evan Benjamin Cacatian     Rodrigo Isaac Calderon     Mason Scot Campbell     Julius Bartholomew Cesarani     Oliver Alfredo Chavez     Alex Chen     Kevin Chen     Diane Hyun Choung     Matthew Byron Cinnamon     Hollie Renee Collins     Yuyao Cong     Catherine Mary Conmy     Leia Cumpson     Alexander Motonari Daijo     Lana Rose Danzeisen     Tanner John Demain     Emma Katherine Dezarn     Angel Francisco Diaz     Daryl Cachapero Donato     Casey Marlon Donlan     Kavir Ashnil Doty     Shevoni Lata Dula     Jordyn Michele Dunn     Max Maximilian Echegaray     Lauren Olivia Victoria Enslin     Adam Thaddeus Fagenson     Amrylois Barras Ferido     Peter Frank Figueira     Kate Elaine Fogg     Marcello P. Frisina     Nicholas Sterling Gamber     Molly McCardle Goldstein     Karina De Los An Gomez Salazar     Jiahong Guo     Margaux Marie Hakkaart     Andrew Burke Christuan Hansen     Sarah Whitfield Hansen     Hannah Lizeth Herrera     Trevor Arthur Hewitt     Sage Marie Hinsley     Ben Chet Holland     Scarlett Huang     Mateo Andrew Huerta     Javier Iniguez Jr.     Faith Catherine Ishiwata     Lucas Daniel Jackson     Jazmin Jacobo     Sidney Jiang     Marina Jean Jones     Alex Nicholas Kaminski     Beau Karnsrithong     Sasha Karsten     Steffanie Arianna Klepper     Jessica Kuo     Kim Kwok     Bella Lee     Qi Leng     Ari Ezra Levenson     Jon Peter Lewis     Yuzhong Li     Tiffany Liang     Josie Liu     Ily Nicholette Logeais     Stephanie Ann Lopez     Nicholas Ryan Lukens     Lola Christine Macaulay     Vidhisha Mahesh     Anna Stefanos Makris     Liz Michelle Maldonado     Paolo Rockett Marchi     Karina Marquez     Lucy Abigail Massam     Zac Pedrito McGlynn     Elvis Ernesto Menjivar     Loreena Fernandez Miguez     Karl-Erik Mills     Cameron Ashton Montesanto     Karina Morales     Darby James Naughton     Alex Bronte Newe     Jake Eric Newman     Jingjing Nie     Esteban Nillo Sanchez     Eric William Nissen     Gabriel Francis Xavier O'Brien     Ethan Yehun Oh     Elohor Stephanie Ojose     Gracie Marie Olivares     Cynthia Thi On     Katie M. Osaki     Fabian Oseguera     Dylan Sweet Overboe     Julie Hyori Pak     Alie Antoniete Paolino-Du Bois     Saul Eduardo Perez Escobedo     Hayley Nicole Pickard     Aileen Mariana Pulchny     Michelle Qi     Oswin Yiyuan Qi     Izzy Qu     Michelle Thuy Quach     Seth Ragonese     Alyssa Cachet Ramirez     Marisol Estrella Ramirez     Miles J. Ramsdell-Ray     Allison Grace Reberg     Kristi Jiyoon Rho     Karina Rodriguez     Odalis Guadalupe Rojo-Perez     Christian G. Ross     Rachel Kathleen Russell     Angie Nataly Sanchez     Arianna Justine Sanchez     Lupita Santoyo Medina     Seth T. Saunooke     Jacob Nicholas Schwebke     Jack Wyatt Scotti     Carlos Daniel Serrano     Denise Isabel Shapiro     Diego Silva     Ethan Sim     Joshua Robert Sober     Emerson David Stewart     Eros Kai Surya     Sam Foley Swanson     Katherine Viola Swartz     Jackie Tapia     Leanne Janette Tarrab     Alyssa Marie Tinoco     Magan Thuy My Tran     Marlene Tran     Michael Le Tran     Kelsey Lane Tynes     Aubrey Rodriguez Valerio Jr.     Itzel Vargas Gonzalez     Natalie Vong     Brendan Anthony Webb     Reece Elias Weinberg     Jack Malcolm Wolff     Zixuan Xie     Rexye Ye     Joo Yeon Yoo     Hao T. Yu     Qingzhu Zhao     Zoe Zhao     Yuyao Zhao
Photos from the Graduation Ceremony