Media of Extraction and Abstraction – Hanna Rose Shell
Colloquium:
November 2, 2022 @ 3:00 pm

-

5:00 pm

"Media of Extraction and Abstraction" begins with a discussion of the medium of clothing, more specifically of textile waste; its industrial reprocessing shaped forms of meaning and me­­dia making in the late 19th and early twentieth centuries. The talk then turns to the nexus of industrial mining and solar astrophysics, excavating the space – literal and figurative, aesthetic and technological – of the so-called Climax High Altitude Observatory. Built on the Continental Divide at 11,500 feet above sea level, on and with the support of the Climax Molybdenum Company, then the world's largest and deepest underground mining operation in 1940, Climax housed a massive instrument that simulated a solar eclipse, as well as a darkroom for developing solar films and photographs. Both the information abstracted from the solar imagery, and the metals extracted from the tunnels beneath, had profound strategic importance to a World War fought thousands of miles away. Close analysis of the site provides the aesthetic, philosophical and creative center for a multi-modal exploration of extraction and abstraction at the limits of human sight, and of foresight.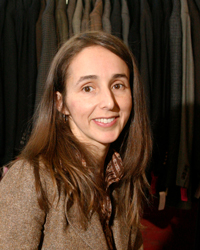 Hanna Rose Shell is a film and media scholar and artist and Faculty Director of the Stan Brakhage Center for Media Arts at the University of Colorado Boulder, where she is also Associate Professor of Cinema Studies, and of Art & Art History. In her scholarly and artistic works, she scrutinizes histories of science and material culture as they shape and are shaped by shifting aesthetic forms and media environments, be they photographic, textile, or military-industrial. ­­Her books include Hide and Seek: Camouflage, Photography and the Media of Reconnaissance (Zone Books) and Shoddy: From Devil's Dust to the Renaissance of Rags (University of Chicago Press). Her talk at the UCSB Film and Media Studies Colloquium emerges from her recent invited residency as the Eleanor Searle Visiting Professor at Huntington Library, Art Museum and Botanical Gardens and the California Institute of Technology in 2022